Podcast: Play in new window | Download (Duration: 40:49 — 32.8MB) | Embed
About This Week's Guest
The Spanish Dude (Jordan Ellington)
Jordan went to Barcelona, Spain for the first time in the Spring of 2000.
He immediately saw tons of cured meats hanging from the ceiling…  and seafood with heads and legs sticking out everywhere. But he didn't try any of it.
He didn't know what it was. It looked disgusting to him. Foreign.
This memory haunts Jordan to this very day. Because now, he's absolutely obsessed with Spanish ham. And the more legs, shells, and guts there are on his plate, the happier he is.
Jordan is not formally educated. He has a fluff degree. But no masters. No Phd no specific area of expertise.
Jordan is a traveler.  And he's spent many of his years in Latin America and Spain. He passes his days perfecting his Spanish, eating fun food, and talking to the people. Never about culture. But always about culture.
Jordan feeds himself by teaching Spanish online. You might know him as The Spanish Dude or Gringo Español. He makes free videos on YouTube, then sells premium courses on his website. Jordan isn't trained formally as a teacher. He just teaches how he'd want to learn.
And by the comments on FB and YouTube, it's clear he teaches how others yearn to learn as well.
His tips to become more culturally aware are:
No matter how much you know, you can always improve. Ask yourself how possibly wrong you can be about something.
Say yes to everything; say yes to a coffee, new food, a trip. Say yes.
Discover the Economist magazine preferably in combination with traveling. This will give you actual topics to talk about when you meet new people.
Interview Links
Links that are mentioned in this episode:
The Culture Matters Podcast on International Business & Management Podcast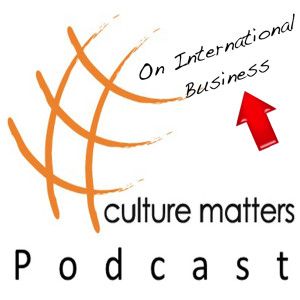 Build your Cultural Competence, listen to interesting stories, learn about the cultural pitfalls and how to avoid them, and get the Global perspective here at the Culture Matters podcast on International Business.
We help you understand Cultural Diversity better by interviewing real people with real experiences.
Every episode there is an interview with a prominent guest, who will tell his or her story and share international experiences. Helping you develop your cultural competence. Welcome to this culture podcast and management podcast.
If you have a minute, please leave me an honest rating and review on iTunes by clicking here. It will help the visibility and the ranking of this culture podcast on iTunes immensely! A BIG THANK YOU!
Enjoy this FREE culture podcast!
Music: Song title - Bensound.com
Latest posts by Chris Smit
(see all)