Podcast: Play in new window | Download (Duration: 49:13 — 39.5MB) | Embed
About This Week's Guest
Jean-Paul Wyers
Jean-Paul Wyers is the founder and director of Protocolbureau, an organization based in The Hague, the Netherlands.
Most people associate protocol with etiquette and Royalty, but the official definition of protocol is "how meetings with officials should be organized".
In a modern translation, the method of protocol is also used by Protocolbureau to manage meetings and events with VIPs, large clients, and other important stakeholders.
Protocolbureau supports organizations on official occasions and in less formal situations such as networking events, fashion shows, and even dance events.
"We like to describe protocol as staged personal attention. In our hectic digital society personal attention has become scarce," says Jean-Paul. "Most organizations are aware of the need for a good network and thus to know the right people, but they struggle to find the best way to manage their personal attention."
"Protocol is about how meetings with officials should be organized"
His tips to become more culturally competent are:
Experience helps a lot. Experience gives you a frame of reference that you can use in other cultural situations.
This experience will lead to Awareness. That's where it all starts.
Prepare. If you're prepared for new things you will do better. Look what is coming in advance. If you need a clue for that you can look in the past for any predictions or lessons.
Interview Links
Links that are mentioned in this episode:
An article on international business etiquette can be found here.
Here are 4 ideas you can use directly to up-your business etiquettes.
An infographic on international business etiquettes can be found here.
Do cultural differences make you smile or cry? Read the article here.
The Culture Matters Podcast on International Business & Management Podcast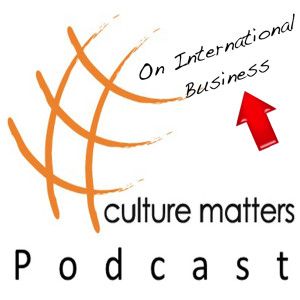 Build your Cultural Competence, listen to interesting stories, learn about the cultural pitfalls and how to avoid them, and get the Global perspective here at the Culture Matters podcast on International Business.
We help you understand Cultural Diversity better by interviewing real people with real experiences.
Every episode there is an interview with a prominent guest, who will tell his or her story and share international experiences. Helping you develop your cultural competence. Welcome to this culture podcast and management podcast.
If you have a minute, please leave me an honest rating and review on iTunes by clicking here. It will help the visibility and the ranking of this culture podcast on iTunes immensely! A BIG THANK YOU!
Enjoy this FREE culture podcast!
Music: Song title - Bensound.com
Latest posts by Chris Smit
(see all)