The World Cup Final of 2006 Came to a Dramatic End
As you might remember the French star player Zinedine Zidane, nicknamed "Zizou", received a red card for giving Italian Marco Materazzi a so-called headbutt. It was also his last match as a professional football player
Could cultural differences, or, in this case, cultural programming, have been at the root of Zizou's emotional display of anger? Let's find out.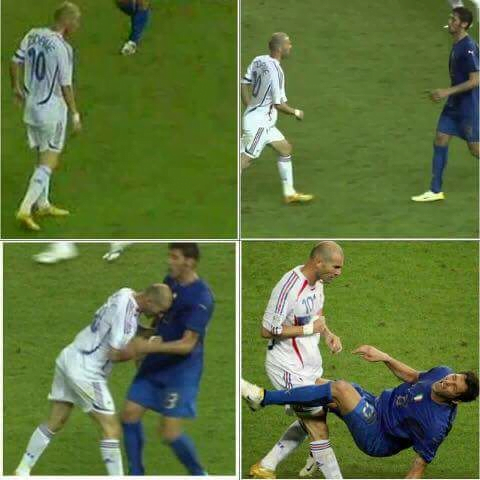 Did the remarks of Italian soccer player Marco Materazzi in the FIFA World Cup Finals to Zidane make the latter lose face or not?
If so, we should not be surprised about Zidane's response. Why? Zidane's parents originally came from Algeria, a collectivistic society. Zidane himself was born in France in 1972 making him second-generation French/Algerian. This could mean that to some extent he could have been mentally "programmed" by his parents with some Algerian values.
The main characteristic of a collectivistic society is that people are a member of an extended family or "in-group". This group takes care of its members, however in return for strict loyalty. Nowadays, wealthy French/Algerians, like Zidane, don't need groups to take care of them, but the collectivistic values still maybe "internalized" within Zidane's mind.
One characteristic of a collectivistic society is that the individuals in the group or the group itself may never be criticized openly by non-group members because they would lose face. If Materazzi has made very strong remarks towards Zidane (allegedly insulting Zidane by saying bad things about his sister), the feeling of loss of face may have caused "the anger" that Zinadine showed.
Conclusion
Even when it comes to the worldwide game of soccer, cultural differences play a role. As you could have seen in the world cup final of 2006.
To read more about French football and culture, go here.
Get a Taste of How Chris Presents, Watch his TEDx Talk
---
Call Directly: +32476524957
Whatsapp: +32476524957
Book Chris Smit as a Speaker
If you're looking for an Engaging, Exciting and Interactive speaker on the subject of Intercultural Management & Awareness you came to the right place.
Chris has spoken at hundreds of events to thousands of people on the subject of Cultural Diversity & Cultural Competence.
What Others Say About Chris:
"Very Interactive and Engaging"
"In little time he knew how to get the audience inspired and connected to his story"
"His ability to make large groups of participants quickly and adequately aware of the huge impact of cultural differences is excellent"
"Chris is a dedicated and inspirational professional"
His presentation can cover specific topics, or generally on Cultural differences.
Duration of any presentation can vary from 20 minutes to 2 hours and anything in between and are given World Wide.
Book Chris now by simply sending an email. Click here to do so.
% of People Rating a Presentation as Excellent

86%

86%

% of People Rating a Presentation as Practical

89%

89%

% of People Rating a Presentation as Applicable

90%

90%
I'm passionate about Cultural Difference. I have been helping organizations save time and money when they work Internationally for the last 19 years. I have had the fortunate opportunity to hold lectures, workshops, and consulting projects on this subject World Wide. It has made me understand my own culture much better, and appreciate the differences around the world.
I have a Master's Degree in Organisational Psychology and have lived in the USA, the Netherlands and, currently, in Belgium.
Thank you!

Chris Smit
Latest posts by Chris Smit (see all)