Podcast: Play in new window | Download () | Embed
About This Week's Guest
Joe (Joseph) Amato
In 1969 Amato began teaching at Southwest Minnesota State University (SMSU) in Marshall, Minnesota where he was a founder and chair of the History Department.
He taught a range of courses in European intellectual and cultural history with a particular interest in the Middle Ages, Renaissance, German, Italian, and French histories and European rural life, as well as taught ethics and introductory social science courses.
Joe has given countless lectures and talks on a variety of subjects in the region, throughout the state, Midwest, and at national conferences.
Reading and speaking a variety of European languages—Italian, French, Russian, Spanish, and German (and some Biblical Greek)
He is widely traveled in Western Europe from the British Isles and the Netherlands to southern Italy, Greece, and Sicily.
His tips to become more culturally aware are:
Try to understand the folklore of a country/culture. Look at how villages or towns worked in the past. History can tell you a lot about the current culture.
Study one family. Maybe start with your own? Go back at least 3 generations and study their environment, their housing, and pick one specific detail to look at a bit closer.
Partly serious, partly for fun, read the poem "The Love Song of J. Alfred Prufrock" by T.S. Eliot
Interview Links
Links that are mentioned in this episode:
The Culture Matters Podcast on International Business & Management Podcast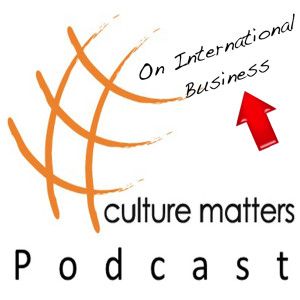 Build your Cultural Competence, listen to interesting stories, learn about the cultural pitfalls and how to avoid them, and get the Global perspective here at the Culture Matters podcast on International Business.
We help you understand Cultural Diversity better by interviewing real people with real experiences.
Every episode there is an interview with a prominent guest, who will tell his or her story and share international experiences. Helping you develop your cultural competence. Welcome to this culture podcast and management podcast.
If you have a minute, please leave me an honest rating and review on iTunes by clicking here. It will help the visibility and the ranking of this culture podcast on iTunes immensely! A BIG THANK YOU!
Enjoy this FREE culture podcast!
Music: Song title - Bensound.com
Latest posts by Chris Smit
(see all)