A story on Cultural Awareness
It was my second trip to Guatemala. This time also work related.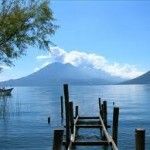 My trip covered a period of 6 days in total. I had to work on Thursday & Friday, and Monday & Tuesday. Leaving the weekend in between to myself. I hadn't made any plans yet, which turned out to be a good thing.
After Work
When my first two days of work were over on Friday afternoon, one of my Guatemalan collegua's asked me what I was doing the weekend. "Nothing yet, have a couple of beers here and there, that's it" was my reply.
"Why don't you come with me, and I'll take you to Lake Atitlan" he asked. I hadn't planned anything, and wouldn't mind the company, so I agreed to his proposal. "I'll pick you up at 9 tomorrow morning (Saturday)". Which was fine by me. Read More